Mother's Day is this weekend, and while it's no secret that mothers take care of everything and everybody, in pet-owning homes that additionally signifies looking after a couple of additional "children."
In reality, pets are considered part of the family according on to a National Pet Owners Survey executed by the American Pet Products Association. So that makes buying for the most wonderful gift for mother a little easier – especially if it seems like she has everything. For the pet-loving mom, distinctive gift ideas abound when you consider animal-themed gifts.
So here are a few fun possibilities to shower upon the "pet mom" in your life this year: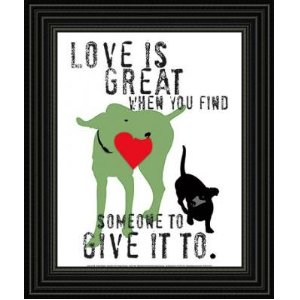 Framed Dog Art by art4cheap are an original way to celebrate the pet in your mom's life. These unique portraits (picture on right) perfectly express pets' personalities and add life and beauty to any home.
The FURminator Dog Brush gives mom a much-needed hand cleaning the house after furry family members. With a stainless steel de-shedding edge, the FURminator greatly reduces shedding — up to 90%! — and keeps dogs happy. Available in small, medium, and large.
Not your average dog tag! Whether her dog or cat is a Mama's Boy or they're BFFs, mom won't be able to resist the unique customizable tags for pets.  DogTagArt offers hundreds of full color tags that capture pets' personalities and help ensure they find their way home if they become lost. Create custom dog tags with your own photos or artwork. Surprise mom with a tag for her favorite pet!
Minty fresh breath sure beats "doggie" and "kitten" breath and now Chambers makes unique strong mints for humans. These treats come in 3 assorted beautiful dog tins great for collecting as well. These delicious mints are great for the stylish pet-obsessed mother in your life!
Diamonds may be a girl's best friend, but the purr-fect Mother's Day gift for the cat-loving mom just might be a pair of earrings, bracelet or a necklace capturing the fun and elegance of felines. Choose from silver to multicolored jewelry that suits the taste of every feline mom.
Eye and Dream Pillows for mom are both incredibly cute and practical. These unique relaxation products, by Warm Whiskers, can be chilled to soothe tired eyes and reduce eye puffiness. They may also be warmed to relieve sinus pressure or used as a dream pillow to ease you into a deep sleep. The Eye and Dream Pillows are filled with flax seed, chamomile and lavender, products all well known for their amazing relaxation qualities. Available in adorable dog, cat, bunny, polar bear, and brown bear designs.
The Paw Plunger Dog Paw Cleaner helps mom keep both her house and her car as neat as a pin. The Paw Plunger features soft, cleaning bristles to keep mud off your pooch's paws. Simply add warm water, dunk paws one-at-a-time, dry with a towel, and presto! No more muddy tracks.
Gift certificates are also a great way to treat pet moms. And as a bonus, many online retailers even offer e-mail gift certificates if mom is far away this year.
Happy Mothers day!