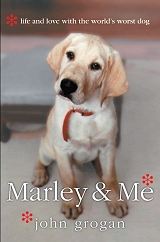 By Jose Lambiet, Palm Beach Post September 15, 2006 -- Palm Beach, FL -- With more than a million copies sold in the past year, Marley & Me introduced America to former Boca reporter John Grogan's neurotic yet lovable Labrador, Marley.

And now that the big-screen rights were sold to Fox, the rest of the world will soon find out about the doggie and the characters around him — including the pooch's first vet, Lake Worth's Dr. Jay Butan. He's described as "the doctor of our dreams," a man who "understood dogs like the best mechanics understand cars."

But the way the Florida Board of Veterinary Medicine sees it, Butan may not be so perfect after all.

Butan earlier this month completed a one-year probation ordered by the regulatory body.

The board found that Butan, who owns Canal Animal Hospital, had euthanized a cat named Spencer with an overdose of insulin, which vets consider to be inhumane. Two other violations were included in the administrative complaint: that Butan failed to keep records on his euthanasia method for a dog named Taffy; and he allegedly embezzled about $27,500 from another vet he shared clinic space with, Dr. Archie Kleopfer, by "fraudulently increasing several accounts payable," according to the paperwork.

For that, Butan was ordered to pay fines totaling $2,000, attend an ethics class and go on the just-ended probation.

"This is a black eye for the entire profession," said Kleopfer, who reported Butan. "The money isn't a big deal. He paid me back. But an insulin overdose leads to a slow, cruel, cold death. I still don't know why he went to the clinic in the middle of the night to kill animals with insulin."

Butan said he was sorry but that he meant well. Spencer was the clinic's mascot, but his time, Butan said, had come. Butan added he OD'd the kitty during the night to spare his staff the grief of losing him.

"I'm not an evil guy. The cat died in his sleep," Butan said. "I have over 12 other cats living at my clinic."

Said writer Grogan: "What I wrote in my book will have to suffice."