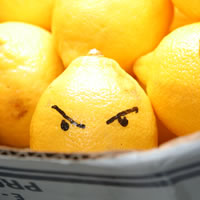 Here's an excerpt from a marketing article I read yesterday. It has everything to do with the subject of what a bad employee can cost a business and also the result of bad employees, bad customer reviews - and the power of online reviews (our topic a couple of weeks ago).
This article was written by a well-known and successful online marketer who has a big subscriber email list that he mails to 3 or 4 times a week.  I'm one of about 100,000 who received this email.
"Last night I went to Subway to get my newest addiction – a 12 inch toasted 'Seafood on white bread'.
The kid I ordered from looked at the girl working next to him and in a quiet voice said, "wow I've never seen anyone toast seafood before" to which she replied in a whisper back to him, "THAT'S F'ING NASTY!"
Of course they thought they were being quiet enough that I would not hear… but I did.
And I stared at them like WTF?
Here I am a recurring customer, in love and completely addicted to this Subway sandwich, and this girl who not only does not need to sell me… she just needs to take my money and make my sandwich... is touting off that its f'ing nasty.
How did that make me feel?
Well it kind of made me feel like a sucker… like I just got punched in the face… and paid for it.

So I walked out.  Literally just turned around and walked out. On the way out I grabbed a comment card and filled it out and snail mailed it to the manager. I filled out the card completely with a recount of what happened and finished it by saying "look up my account I've been in here every day for the last 2 weeks sometimes even 2x a day but I won't be back to eat your "F**king Nasty" sandwich ever again".
Maybe that was a bit harsh. But I was p*ssed.
So I fully expect the Subway manager to respond with 10 coupons for free sandwiches and apologize as is company procedure in a situation like this."
-------
Most businesses have a policy and procedure on damage control for an upset customer that's probably similar to this.  And while it's essential to have one it is also much nicer to only rarely use it because you and your staff have happy customers.
Some numbers for you
A couple of years ago we did a survey of pet owners and asked them about their primary vet and whether they'd made a change in the recent past or had plans to make one, and if so, why.
And this question one of the few that 100% of survey takers answered.  There was passion in their answers, either because they loved their vet and would never change or because they were still upset about what made them decide to change, and as a result of that passion each and every pet owner answered that particular question.
Here's a breakdown of their reasons for leaving:
While staff was #8 on the list in this particular survey, new vets and some of the vets in #1 were employees of their hospitals.
And like the Subway example, those customers left upset, told their friends (and maybe posted an online review), and found someone else to take their pets to.
That's a business killer.
It can be avoided and below are some tips on how to help do just that by hiring the right employees.
(Here's a video by an employment agency that featured a job applicant named Killer I just had to share)
In this video the employment agency does its job by screening the applicant and the message is - "Use our agency and we won't send you  'killer' for an employee.
The problem is not all positions in your business require the added expense of using an employment agency.  But you also don't want to put a 'killer' employee on your staff either.  You want to avoid 'killers' at all costs.
So what can you do?
Here are some suggestions that can help you in hiring employees that will be an asset to your business, helping to make you money rather than cost you:
1.  Write down the qualities and job duties for the position you want to fill.  Be clear in your mind on what skills are crucial and what you can teach your new hire on the job.
2.  Have some idea of the type of employee you feel will be a good fit for your business and your team. Hiring someone who is a bad fit in your office creates a stressful working environment for everyone.
[Sidebar: I remember an office manage we had who was a dream.  She was fast, efficient, well-organized and wonderful on the phone.  Our customers loved her and on the surface she seemed perfect.  But she was nasty to other staff in the office and more than once I had to intercede to avoid a staff mutiny.  So while she took a lot of work load off my shoulders, the unrest she created in the office ultimately was so bad that I had to let her go.]
3.  Have a salary range established for the position.  Having a low end - high end range gives you flexibility in choosing the right hire, allowing you to offer less for someone who is a good fit but needs more experience and more for a more qualified applicant.
4.  Make sure you gather enough information on potential applicants and, if they pass your first screening, that you actually verify past job and personal references.
As part of our screening process we've had success using employee testing (one of our advertisers, The Employee Testing Service, is a service we're familiar with and recommend. They offer a free test to try their service too).
5. Conduct a short phone interview with a potential employee to get a feel for the person and their personality before having them come into the office.  If you like how the phone interview goes, have them come in for a more extensive interview.
6.  Schedule them to come in while your office is in full swing so they'll have an idea of what to expect should they be hired.  This working interview should be a minimum 3 - 4 hours and should include having the potential hire shadow someone in the position they would be filling.
Conducting a working interview allows you to see the person interact in your office and will give you and your staff some idea of whether the fit is a good one.
If it looks good and the references and employee testing results are acceptable, you may have just found the right person.
While there are no guarantees on how well someone will work out by following the above tips, they will go far in helping you avoid hiring a killer employee.
To your success,

PS.  Do you have other hiring tips you'd like to share?  Please leave your comments below!