The Denver Channel August 22, 2006 -- A lucky feline may have eight lives left but he lost his nose and his tail during a recent run-in with lightning, according to a Salida couple.

Rod and Cheri Schleicher told the Mountain Mail that 6-year-old Hamlin was struck by lightning or some other electrical source about six weeks ago.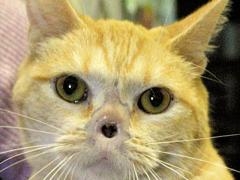 On the night of the accident, the couple noticed that their orange tabby was wheezing a lot, and saw that his nose was swollen and discolored. Cheri Schleicher said she simply thought Hamlin ran into something but when he didn't eat for a couple of days, they took him to the vet.
"(Our vet) suspected Hamlin had been struck by lightning, but his whiskers weren't burned and he couldn't find any damage to (the cat's) limbs," she told the newspaper.
Then a couple of days later, Schleicher was petting him in her lap when she noticed that his tail, leg and paw were cold to the touch.
"Apparently, it takes time for damaged nerves to die after animals are struck by lightning," Schleicher said. "Dr. (Kit) Ryff said he had seen something similar to this in larger animals, but never an animal this small."
Hamlin's nose fell off and his tail, back left leg and a portion of his front left paw had to be amputated.
Without a nose, Hamlin is at risk for possible infections, and may have to be put down, his vet said. But Schleicher said her cat is doing fine and recovering well -- eating a lot and learning to walk on three legs.
Hamlin will never be able to be outdoors again but he should live a normal life, she said.
Schleicher said the cat is lucky in more ways than one. Hamlin was found abandoned along with another cat they rescued, who eventually died of leukemia.
"Hamlin shouldn't be alive, but he is and there must be some reason. So as long as he is healthy, we'll take care of him," Schleicher said.