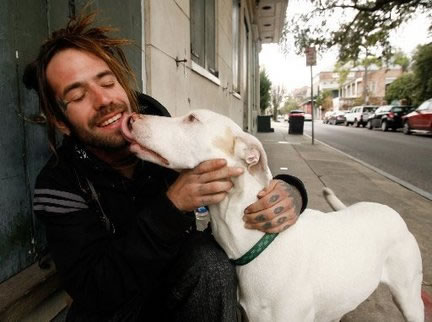 Charlie and Stephan Soleas
Reunited in New Orleans

The story behind Charlie the dog who hitched a ride to meet his master 1,200 miles away

The dogs in New Orleans' Carnival pet parade included a pooch that hitched a ride 1,200 miles from Taos, New Mexico, to the city where his 26-year-old master had hitchhiked weeks earlier.
Stephan Soleas, Charlie's owner, had earlier packed his bags and his accordion, and hitched a ride to New Orleans for a few weeks of visits and music. He left Charlie, his 6-year-old Labrador mix behind when he left.

Within a few days of his leaving, Charlie went missing and could not be found.
What happened to Charlie?
He was found wandering by a couple vacationing in Taos. The couple saw a collarless dog and when they opened their car door to check on him, he jumped right in. The couple spent days combing the Taos neighborhood, searching for the owner or someone who recognized the dog but no one did. A nearby veterinary clinic, not equipped with a pet microchip scanner, was no help.
They'd become really fond of this rescued pooch and decided to give up their airline tickets and rent a car for the three-day return drive home with the dog...to New Orleans where they lived.
Not knowing what to call him, they decided on a name they thought fit. And the name they chose was........Charlie.
After returning home the couple brought Charlie to their long-time veterinarian to get him checked and discuss plans for adopting him. One of the things their vet did was scan for a microchip and it was discovered that this dog did, indeed, have an owner in Taos. The veterinarian called the number of owner to let him know his dog had been found and was amazed to find that Charlie's owner was in New Orleans, just blocks away from where Charlie was right then!
(I can picture the call...."Hey, we found your dog." "That's wonderful, but I'm away from home right now" "Where are you?" "New Orleans" "New Orleans...what the!!!!.......that's where your dog is too!!")
The veterinarian said the kind couple took the news well. "I think they were a little sad, and a little shocked, but they were just happy that he was able to get reunited with his family,"
So Soleas and Charlie reunited in New Orleans and two days later, they were in the Krewe of Barkus pet parade marching with all the other pets and their owners.
(and we hope they live happily ever after and that Charlie never is allowed out without his collar on again - and there is a moral to this story, isn't there? 1. Make sure your dog has a collar with ID, 2. Microchip your pet in case #1 fails).
from http://www.nola.com/pets/index.ssf/2010/02/lost_dog_tale_has_happy_ending.html
Email linda@vetlocator.com and tell me your thoughts.
-----------------------
If you liked this story, please share it with your friends. If you'd like more stories and pictures, connect with us on Facebook.

Connect with us on Facebook
Share this article