NBC4.tv -- August 25, 2006 -- Chicago -- The Virgin Mary has made another appearance, this time on a Chicago woman's pet turtle.

Shirley McVane believes her pet turtle, Mary, has the image of the Virgin Mary silhouetted on its belly.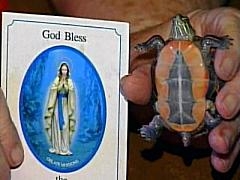 McVane said she named the turtle after the Virgin Mary.
She also has another turtle named Joseph, in honor of the Virgin Mary's husband.
McVane said she considers herself a religious woman, with pictures and statues adorning her house.
McVane's daughter, Dolly Fordyce, said she was shocked to see the silhouette, but she believes her mother.
McVane said her friends doubted that the image was that of the Virgin Mary.
"They said, 'Oh, Shirley, you're getting nuts; you're 81 years old,'" McVane said.
The Roman Catholic Church has an investigatory process for such religious sightings. The Archdiocese of Chicago said that, for the moment, if these visions encourage people to reflect, pray and lift their hearts and minds to God, that is a good thing.
"There's no doubt," McVane said. "You can't doubt it's the Virgin Mary. You know it's there, and that's all. You don't know how it got there."
Just this week, people reported seeing images of the Virgin Mary in the drip tray of a George Foreman grill and in the wood paneling of a restaurant in San Diego. She has also been spotted on a grilled cheese sandwich that sold for $28,000.