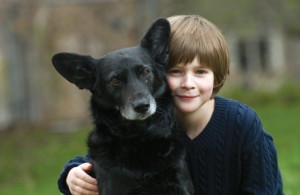 About a year ago, researchers at the University of Minnesota began an experimental procedure to save a dog from an aggressive brain tumor.
Researchers hoped that any success they achieved with Batman's treatments would give them valuable insights into new ways of treating brain tumors in humans.
Batman had a common tumor called a glioma (a type of tumor with scattered invasive cancer cells).  Most dogs diagnosed with this type of cancer are dead within a month.
But Batman was an exception.  His experimental treatment worked! And now, over a year later, Batman is healthy and has no sign of cancer.
A miracle.
Not only was the treatment successful but his success was so dramatic, the National Cancer Institute is funding further research for up to 100 dogs.
So far 8 other dogs have undergone the same procedure and ALL of the dogs had their brain cancers shrink or disappear.
Researchers will finish their trials with dogs (and if you have a dog or know of a dog with cancer, it may qualify to participate in the trial FREE) and take the information they learn in the trials to develop a treatment course for humans with similar cancers.
They expect to begin clinical trials on humans in 2 to 3 years and if the results for humans is similar to those with dogs, then many people will benefit and their cancers will be cured.
And they will be sharing the same miracle that Batman did.
The miracle of life.
To read Batman's story, click HERE.
In the resource link below, you can see a video on Batman and his surgeon and also get information on how to get free cancer treatment for dogs who qualify.
Resources:  Free Tumor Treatment for Dogs
Linda
http://www.vetlocator.com