Archive for April, 2013
Monday, April 29th, 2013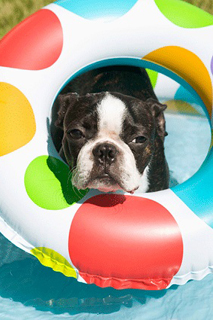 Here in Florida that also means the start of flea season (and some say flea season never ends here…) So with the warming weather and spring fully in the air, your pets may be feeling the spring fever too.
Here are some 'plan ahead' tips for you when you are overcome with the need to be outdoors with you pets so you both remain comfy, cool and safe:
Plan Ahead Tip #1 – Dress appropriately for the weather and make sure you are considering your pet too. For us this may mean layers we can remove if we get too warm, and add when things cool. It always includes a hat and sunscreen.
Since your pet won't usually be able to shed or add a layer, help your pet's natural process for cooling down by giving them a little help. Pets have their own way to remove layers, usually by shedding, panting and sweating. It is the perfect time to cut and trim their coats if they need it. Use your own judgment on whether a cut is right for them. In Florida our triple coated dog gets a cut before she is miserable and overheated and that earns us extra kisses from our cooled down pooch.
Plan Ahead Tip #2 – Have enough water, doggy bags (because we're assuming you won't be traveling with your cats), plans for shade, and food with you. We have a very cool fanny pack that is roomy enough for our snacks and our dog treats and waste bags, plus 2 water bottle holders, one for each of us.
Plan Ahead Tip #3 – Speaking of snacks; bring the right kind with you. Depending on how your dog shares, and how long they take to eat a treat, choose wisely. Nothing worse that having to wait while your pup savors the last bites of a ten minute chew – well, there is something and that's if your dog is protective and is antisocial while devouring his 10 minute chew. Healthy, nutritious and quick to eat for both of you is a good plan ahead tip.
Plan Ahead Tip #4– Bring clean up supplies. Yes, we live in Florida, land of endless beaches, lots of water, lots of …. Well everything!
This means our dog gets plenty filthy when we go out, either from sand or dirt or weeds or water or, or… And we're not special here. Anyplace those four feet can touch down is a place where there is a potential for a mess. Even if your pup is carried everywhere, in a backpack, carrier or arms, things can get messy.
Towels, plastic bags and baby wipes are handy to have and will get used so bring them along.
Plan Ahead Tip #5 – If you are going to be out for an extended time, something that's nice is a cooling mat that allows air to circulate all around your pet. Cooling pet beds help cooling your pet down, relieving sores and pains for senior pets and injured dogs or simply giving them a good sleep.
Plan Ahead Tip #6 – Know what to do if your pet gets overheated. The first thing is to know what the signs of heat exhaustion/heat stroke in a pet are. If you observe a swollen tongue, heavy panting, glazed eyes and rapid pulse or vomiting. Or if you notice your pet's tongue looks purple or he is walking or staggering, he might be dealing with heat exhaustion. If you're not sure, be safe and do this: place rubbing alcohol only on your pet's paws and keep him in a cool (but not cold bathtub). Splash with water especially on the belly, or you can apply ice packs only on head, neck and chest. Then call your vet immediately.
Oh, I did mention flea season, didn't I? Yes…this is your last a plan ahead tip…Plan Ahead Tip #7 – Before going out make sure your dog or cat has some flea protection – whichever you feel is best for your pet, and when they come in CHECK THEM FOR FLEAS. Even with protection fleas will often jump on looking for a meal before they jump off. If they jump off in your house…not something you want, is it?
They say that planning ahead is a good thing. I agree, don't you?
Have a wonderful spring!
Linda – Daily Paws