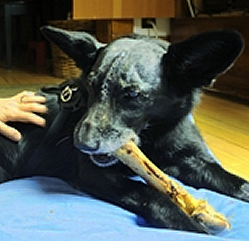 In October of last year I shared the story of Batman, a dog owned by Anna Brailovsky and her husband Eric Baker  in the story titled
"Dog cancer miracle – and what it can mean to us".
Batman had been a happy healthy dog until 2008 when he began to suffer seizures.  When his owners brought him in to see why, it turned out Batman had a tumor in his brain causing the seizures.  He was treated and his treatment at the University of Minnesota was an experimental one – and one that turned out to be a success, not only for Batman – who successfully beat the cancer, but the procedure he received may be used to help humans as well.
And although Batman was only given a prognosis of 10 months to live after the successful operation, he stayed with his family for another year and a half, cancer free.  In the end it was pneumonia that he was not able to beat.
University of Minnesota researcher John Ohlfest called the dog, "a champion for science, but an inspiration for all dogs and humans alike."
We agree.
Tags: bantman death, Batman, batman death, canine brain tumor, miracle dog