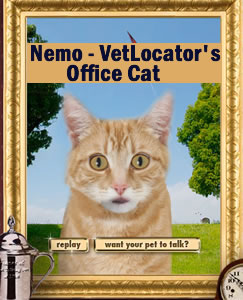 This is Nemo, one of our VetLocator office mascots whose job it is to brighten our days, be our spokes cat and keep the place free of any and all creepie crawlies.
He fulfills his duties faithfully and in exchange we keep his food bowl filled twice a day, keep him healthy, and he gets lots and lots of attention and love.
But there are some days when he fixes us with his big yellow cat eyes and I know he is trying to talk, to tell us what's on his mind at that particular moment.
Does that ever happen with your animals?
Help them out by giving them a voice.
Just click this link to hear what Nemo had to say when we gave him a voice (and we got to choose what we thought he'd sound like too) and then follow the instructions to give your pets a chance to say what's on their mind!

Tags: talking cat, talking dog, vetlocator.com