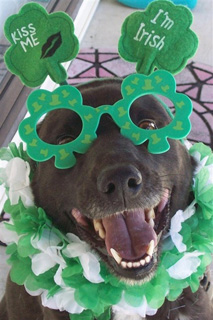 St. Patrick's Day is coming up and soon it will be time to put on the GREEN.
Here at VetLocator Daily Paws we refer to the day as St. Pawtrick's Day and we love to celebrate it by adding a bit 'o green to our attire and to our pet's 'dress' too.
Here are some of our tips for celebrating the day in a fun and safe way.  We always include safety tips (and we're sorry if we sound like your mother when we do.  It's what we are focused on though, healthy and happy pets, so we hope you excuse us for the repeat – and guarantee you'll hear us saying this stuff again).  So here are some tips.
Patrick's Day is fun, crazy and full of celebration for many and pet owners should make sure their pets are protected during the celebrating.  Follow these safety tips to keep your pet safe this St. Pawtrick's Day.
Keep your pets away from holiday food.  Some traditional Irish food can make your pets ill. This is the usual advice – Watch what you feed your pets and check on them before, during and after a party to see if they look like they've eaten something that they should not have.
Don't get your pets drunk.  On this day especially some irresponsible people will think it's funny to give a pet beer.  Even if that's not you, if you're celebrating and your pets are with you, watch that someone else does not sneak booze to your pet because they think it's a funny thing to do.
Plan on wearing green and add a bit to your pet's attire too.  Remember – wear green or be pinched!
It's becoming popular to dye or airbrush  a cat or dog's fur.  If you fancy this, do some research first before proceeding.  Some dyes are toxic and some are permanent.  Also some pets get freaked when they are being decorated by an owner.
And in the event something should happen, keep your emergency numbers at hand.
We have some photos of Pets on Parade that are fully into the St. Patrick's Day festivities.
Tags: Green, Holiday, Irish cuisine, Parade, Saint Patrick's Day, st patricks day, vetlocator.com