I've been very busy lately – the unplanned kind of busy that stretches time. And my guess is many of you have been this kind of busy too.
Since the news about Haiti hit, I've given a good chunk of my already non-existant extra time to helping with local efforts to bring relief to the suffering and dying people whose lives have so abruptly changed and will never, ever be the same again.
But just a few days ago my attention was yanked back here to another kind of relief, and it is also the kind to bring help to suffering and dying whose lives are affected through circumstances that they did not cause and have no control over.
These are the increasingly larger number of homeless and shelter pets in our country and the people who devote so much of their time and energy in helping them.
We can't stop our help and we need to increase it if we can. With that in mind, we have a new post on our Daily Paws Blog on things you can do to help homeless pets. Of course, one of those things has to do with money, but there are also other things to help that don't.
Take a moment and check them out and commit to doing at least one of them. A hungry homeless pet's thank you will be your reward……………
15 Ways to Help Homeless and Needy Pets and Their Caregivers
Some of these are our own ideas and others we've gathered from various groups online…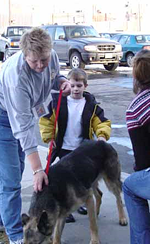 There are many ways that you can take to help the increasing number of homeless and hungry pets in your community.   Here are a list of 15 of those ways you can help and you can probably think of others too.
Make a donation to a local shelter or rescue group's general fund which can be used for whatever the group chooses.
Organize a fundraiser – a garage sale, pet charity auction, variety show, etc. whose benefits go to the group of your choice.
Donate to a specific program already in place at an organization you choose to support.  Examples are lost pet programs, subsidized adoption programs, cruelty investigation programs and spay/neuter programs.  Your gift then will be used for that particular program and nothing else.
Enroll in a subscription donation program.  You've seen them on TV.  You pledge to donate a specific amount each month to go toward caring for needy pets.  As a caution, it is good to check out the group you are donating to, ensuring your money is going directly toward care and not for administrative costs.
Make a visit to one of the websites that will donate dog or cat food to shelters and rescue groups when you click on  some of their advertiser links.  www.FreeKibble.com is one such site.  The search engine www.dogpile.com (a search engine that simultaneously searches Google, Bing and Yahoo and displays all results) will donate a percentage of their ad revenue to help homeless pets. This is a painless, no money involved way to help – although it is also a good idea to support those businesses participating in the program by advertising and donating money.
Memorials are an overlooked way to donate and honor a favorite pet or person who has passed away.  You can donate in the name of your loved one and know that they would be proud you've done so.
Tributes are cash donations to honor living people and pets who are making a difference in your life, or in the community.  Most groups will send you a note to the honoree telling them of your generosity on their behalf.
Donations of goods and services the shelter can use – known as in-kind donations.  Shelters or rescue groups will often have a "Wish List" of items they need posted on their website, but if you don't see it, just call and ask. Services can also be donated – printing, copying, cleaning, grooming, vet care and many other services can be donated and this is a great way for small businesses to help.
Cut coupons out of the paper and send them to a rescue. If possible, use the coupons yourself and deliver the items to the shelter. Pet companies will frequently offer a buy one-get one  coupon or a free item especially for new products. If you're buying something for your pet, use the coupon and give the extra one to the shelter. The coupons don't have to be for pet food, shelters and rescues need cleaning supplies including laundry detergent, bleach and paper towels.
Sponsor a homeless animal.  Many shelters and rescue groups offer sponsorship opportunities for their hard-to-place animals.  You pick the animal you want to sponsor, donate a set amount each month until the animal is adopted, and in exchange you get a photo and periodic updates on the animal.
If you have a business, become a sponsor for a pet friendly event that benefits a local shelter or rescue group.  Sponsorships by small businesses and pet-friendly establishments allow organizations to put on bigger, better fund raising events without challenging already tight budgets, and they're a good deal for the companies, too.  In exchange for a sponsorship most organizations offer free advertising in event promotional materials and programs and signage the evening of the event as well as free admission and other perks.
Do you have old blankets and towels in your linen closet? Don't throw them away, take them to a shelter. With so many pets under one roof, laundry is a never ending chore. The pets really appreciate having a soft bed and they don't care if it's a Backstreet Boys blanket.
Are you a groomer? If so, donate your time and offer to groom some homeless pets. They will not only look better and feel better but their chances of being adopted will be greater.
Use your special skills- The shelter may need help with computers, book keeping, or building a better shelter. Get creative about the ways which you use your skills to help.
The shelter can be an extremely stressful atmosphere for a dog or cat, go and keep a furry friend company for a day
Adopt a homeless pet and take it home with you, making sure you are prepared to keep him or her as your companion for the rest of their life.
It does not matter how you donate.  The important thing is that you do what you can to help animals and their caregivers.  Each and ever dollar counts in the war against pet homelessness and pet overpopulation.
Thank you what what you ARE doing.  Together we can all make a difference.
Linda