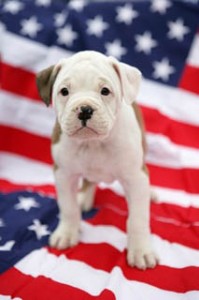 Today is going to be a great evening of bar-b-ques, fireworks and get-togethers.
We hope you and your friends and family have a wonderful time, but want to remind you to make sure your pets are safely tucked away before all the noise begins. 
In the event that you and your pets are able to accept holiday invites together too we thought we'd share some petiquette tips you might find handy.
1.  The very first thing you'll want to do is to make sure it's ok with your host that you bring your pet with you.
2.  Next make sure he/she has a collar with an ID and that the ID has correct information on it.  These days it's an excellent idea to use a cell number rather than a home phone number since your cell phone is usually with you and you can be reached quickly in an emergency.
3.  Put your vet's phone number and an emergency vet hospital number into your cell phone to have it handy in the event you need it.
4.  Try to find out who'll be at the party in case you need to make plan changes (for example people with babies, small kids or other pets can change things, including whether you should bring your pet with you).
5.  Bring along pet essentials like food and water bowls, a leash, handy wipes and cleaning stuff and pet waste bags.
6.  I like to bring some special treats with me.  Folks like to feed my dog, so I give them some of his healthy treats to make sure he's not getting junk.
7.  Pets can make a mess sometimes so I keep a couple of baggies handy for the expected and unexpected messes and also have a lint roller in my pet kit because my dog has been known to shed.
8.  It's not a bad idea to have a crate handy so your pet can be safely secure if things get crazy.
9.  If you notice your pet becoming tired or agitated, secure him in a closed room or his crate if you aren't able to take him home.
10.  Don't let pets wander around cooking food. Not only can it be a problem for the cook, but your pet might accidentally eat something that's not good for him.
11.  Always be aware of where your pet is during any event.  Pets can become nervous and bolt in unfamiliar surroundings.  Also, like children, there are times when they've had enough and it's time to go home.
Now for some personal peeves I've experienced attending events where certain pets should not be.  I'm titling this short list ****If your dog has any of the following problems, please leave him/her at home.
1.  Incessantly barks at other people, dogs, birds, cats, etc.  A barking dog that won't quiet is distracting and the owners that won't remove the dog are just plain rude.
2.  An aggressive animal.  If you know your dog – or cat – is aggressive, LEAVE THEM AT HOME.  Period.
3.  Your pet is ill or has not been feeling well.  Besides the obvious point of an ill pet might be a contagious pet, outings can be stressful and can make your pet's health worse.  Leave an ill pet at home with a sitter and not in a kennel.
4.  The event will have people who are fearful or allergic to pets – See #1 above.
5.  Your pet is having a bad day – everyone does and our pets are no exception.  If you see that your pet is having a bad day, give him/her a break and let them stay home.
If you decide to leave your pet at home while you attend a party or other event, consider the best options for him while you're gone.
If he's not used to being home alone, you should leave for short periods of time to prepare him/her to being by themselves.
If you'll be gone for any length of time you may want to consider keeping your pet at a kennel.  This is a good option for social animals that don't stress about being away from home.
Additionally, for animals that are going to a kennel and may not be used to small spaces, consider getting a crate ahead of time to prepare the pet.
Arrange play dates for pets who might not be used to having other animals around. Send along an item that smells like home for a pet's stay at the kennel.
Kennel spots should be reserved early for the holidays. If you've not used a particular kennel before, check into their safety measures, such as video surveillance, fire alarms and sprinkler systems.
Make sure your pets are up-to-date on their vaccines, and find out if any others are required for their kennel stay as most kennels will request proof before allowing your pet to stay.
Pet sitters are a good option for animals that do better at home or if you have several pets that you'll be leaving.  If you decide to hire a pet sitter, here are a few tips:
Ask for references, find out what services the sitter provides and do your standard due diligence before hiring.
Prepare an emergency card with all of the information the sitter might need including Vet, Emergency Vet, your contact info and a close neighbors contact info, medications your pet needs along with their dosages.
Don't wait till the last minute to introduce your pet to the sitter. Pet sitters should meet the pet ahead of time and be introduced to see if there are any personality issues between pet and sitter.
Then, while you are away, make sure to check in with the sitter during a time you know he/she will be there and let your pet hear your voice.
And with all this advice, here is one more for you.
Have a wonderful holiday and a great week that is shared with family, pets and great friends!
Linda
VetLocator.com