I want a break from life to go hike to Argentina with a kitty on my back! The apparatus on my shoulder is a camera mounted in a way to document our travels.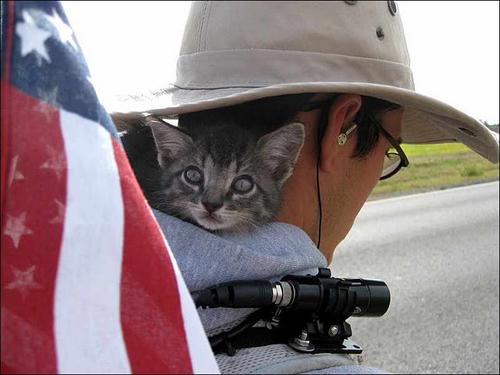 Kitty is a very adventurous cat. She is the beloved pet of American travelers, Peter and Marcia Simmons, who are hiking from Miami , Florida to Ushuaia in Argentina . They are currently in Colombia . Kitty is often seen resting in Peters backpack as they travel. They have set up a little umbrella on the backpack to shade Kitty from the sun.
Kitty is enjoying the trip as much as her owners. She often climbs on Peters shoulder to get a better view of the new scenery. She is not at all shy about meeting new people. If there was an award for the most adventurous cat, Kitty would be the purr-fect candidate.