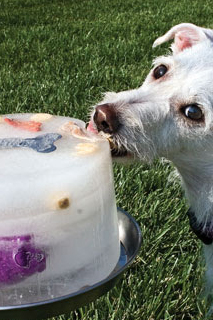 Whatever your plans are for the summer, keeping yourself and your pets cool in this hot season is essential. We humans can cool ourselves easily but pets can't do that.  Keeping your dog cool and comfortable on summer days is very easy so you both can enjoy indoor and outdoor activities without suffering from heat exhaustion.
Follow this simple steps and tips to ensure your pets remain cool during summer's hot sunny days.
Pet Summer Tip #1 – Help your pet's natural process for cooling down. Pets have their own way to cool down, usually by shedding, panting and sweating. It is the perfect time to cut and trim their coats (some owners feel differently about this – so use your own discretion on whether giving your pet a summer hair cut is right for them.  In Florida where we are based, we do give a cut to our triple coated senior dog because she is just miserable and overheats easily).
You can use products such as the Furminator to control their shedding so and thin their coats soyou don't have to deal with scattered pet hair.
Pet Summer Tip #2 – Provide cool shade and plenty of fresh water. You can set up a good spot on the backyard that is shaded enough for dogs to rest.  There are some awesome automatic watering products such as the Drinkwell Pet Fountain that actually works for all seasons, keeping the water cool and fresh in summer and capable of keeping it warm enough on cold and freezing winter days. During extremely hot days it is important to keep your dogs inside in well-ventilated or air conditioned rooms.  Keeping them in a yard – especially one that has little or no shade, is risky.  If your dog runs out of water or becomes overheated he or she can die or get heatstroke.  Do the right thing and keep them safe and cool and out of the sun if they are to be left for extended periods of time.
Pet Summer Tip #3 – Provide pet cooling mats and beds. Something that's nice is a cooling mat that allows air to circulate all around your pet.  Look for discount coupons on pet bed sales and get a good one for your pet. Cooling pet beds have many benefits including help cooling down, relieving sores and pains for senior pets and injured dogs or simply giving them a good sleep.  Keeping your pet cool might even help extend their lives.
Pet Summer Tip #4 – Bring supplies to outdoor activities or traveling. Hiking trips, long walks, bike rides and long trips in the car can leave your pet thirsty and dehydrated.  Bring a portable "pet waterer" and offer it to them from time to time. There are innovative dog cooling bandanas and jackets that help release heat that is good when hiking, camping or walking pets. Bring cooling mats or beds designed for cars so your pet can comfortably rest in one area of your vehicle during the entire trip. Remember, don't ever leave dogs and pets alone in the car.
Pet Summer Tip #5 – Feed the right diet. Some pets would rather lie down instead of running or jumping when its hot – and this is probably a good thing.  However, just like humans, bodies are made to be exercised and not exercising can also produce health issues.  Giving your pets healthy treats to chew and play with is one solution. Frozen kong toys filled with their favorite healthy treat is one of the best cooling toys, yummy and meaty bones are good too.
Pet Summer Tip #6 – Avoid doing these during hot days. Pets are susceptible to heat stroke, heart and lung diseases when it is too hot. Over exercising your pet in the heat of the day.  Not ensuring there is ample water available.  Shave your pet too closely resulting in sunburn and heat stroke.  You can shed your dog or cat to thin the coat and even shave to a shorter level, but with all fur gone the natural insulating quality built in is gone and they can overheat and burn easily. Pets  have a  tendency to get irritated or aggressive if they feel uncomfortable too.  A hot dog can be a snapping or biting dog so be alert.
Pet Summer Tip #7 – What if your pet is overheated?  What to do? If you observe a swollen tongue, heavy panting, glazed eyes and rapid pulse or vomiting.  Or if you notice your pet's tongue looks purple or he is walking or staggering, he might be dealing with heat stress. If you are not sure, be safe and do this:  place rubbing alcohol only on your pet's paws  and keep him in a cool (but not cold bathtub). Splash with water especially on the belly, or you can apply ice packs only on head, neck and chest. Call your vet immediately.
Tags: cooling mats and beds, frozen kong toys, pet waterer, Summer, summer pets, vetlocator.com