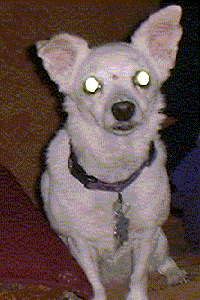 I was leafing through one of my old photo albums the other day, looking at pictures of a beloved dog who was part of the family for 16 years, when I came across several scary glowing eye pictures I'd snapped of her.  They made me smile because she looks like an alien pet and I remembered what we were doing when I took the pictures.
However, most of the time you won't want to have a glowing eye pet and will want to fix the problem.  And now with digital cameras and some free online software, it's easy to do.
Here's a tip I ran across today from Sue Chastain's Graphics Software Blog on About.com that tells you how to fix pet eye with the online website Picnik.
Here are Sue's steps on how to do this:
Here is a quick run down on how to fix pet eye using the online photo editor Picnik:
If the photo you want to fix is on Picasa Web albums, you can navigate to it there, then click the edit button above the photo.
If the photo you want to fix is on another photo site or your computer, browse to Picnik.com and click "Get Started Now." Then click the "Upload a photo" button, or use one of the buttons at the bottom of the screen to access your photos on popular social networks and photo sharing sites including Flickr, Facebook, MySpace, Webshots, and PhotoBucket.
Once your photo is open in Picnik, click the Red-Eye button along the top of the page.
When the red eye dialog opens, it asks you to click on the center of each eye. It attempts to determine whether you have clicked on a pet or human eye, but in my experience it is best to click the "Furball" button straight off if you are fixing pet eyes.
To read the rest of her article, click HERE
http://graphicssoft.about.com/b/2010/08/12/fix-pet-eye-quickly-with-picnik.htm
Related articles by Zemanta
Picasa 3.8 Integrates With Picnik & Introduces Face Movies (makeuseof.com)