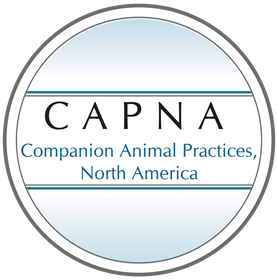 It's not news to say that all pet health practices have been affected by the economy in one form or another.  And it's not news to say that if you want to survive and stay in business you either make changes to adapt to the economy or suffer the consequences of not adapting.
So it's interesting to see some of the solutions that have arisen in response to doing business in today's economy.
Here is one solution that caught my attention: the merger of 17 veterinary practices that resulted in the largest practice merger in US history according to their headline.
The goal? Achieve competitive advantage by pooling resources amongst the merged practices while maintaining  independent  local decisions for other aspects of the practices.
The name? Companion Animal Practices of North America, or CAPNA.
"CAPNA's model is built around each practice operating independently but benefiting from a corporate structure to deliver cost efficiencies, other economies of scale, human resources, career development/mobility for veterinarians and staffers and risk management while delivering quality medicine."
Something in between a large corporate practice structure such as VCA and a single practice.  And there are plans to increase the size from 17 to 34 merged practices in the next 5 years.

Will it work?
Only time will tell if it works as the practice owners have envisioned it will.  The business model is an interesting one.
To read the original article from DVM360 Magazine, click here.