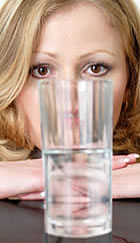 A short time ago I sent out an email titled "Can I ask A favor?" and the question was "What is your single most important question regarding your business?"
As you might suspect, the largest response went something like this:
"When will the economy bounce back so people have money to spend on their pets?"
I wish I had an answer to that question, but, unfortunately I don't.
The truth is the economy is stressing every sector of business today and some businesses are not doing a good job handling the stress.  But if you look a little closer you'll see that some businesses, specifically for this discussion, some practices, are holding their own and even growing DESPITE the stresses of today's new economic reality.  In fact, just yesterday I had lunch with a practice owner who had just opened his newest office.  He told me that he's developed a formula for keeping his offices solvent and expanding and his formula is working despite the economy.
Like this owner, some businesses are looking at today's challenges as their cup being 1/2 full and they know there are opportunities for growth if they take initiative to find them.
How can you find your opportunities?
1.  They are adapting their business model to the current economic climate of their area.
2.  They're listening to their customers and offering more of what their customers want at a price point they can afford.
3.  They make it easy for their customers to do business with them through payment options, specials and events.
4.  They are marketing more and smarter (but not necessarily spending more for their marketing).
Here is an excerpt from an article about a struggling practice and how he is losing his client base to other practices around him.  He comments on why they are doing better than he is and what he is doing to cope….
"Despite *****'s love for furry friends, the recession has still hit his practice hard. Some days, he earns less than $200. Other days, he makes more, but his income has not remained stable for the last year. While other animal hospitals nearby have at least two doctors, ***** cares for animals on his own.
"We lost about 60 % of our clients," ***** said.  "Because other animal hospitals have more veterinarians, they also receive more business, which means they have more money to advertise. I do the best I can with fliers, the Internet and a phone book."
Even with the economic pinch, ***** and his staff frequently lower prices and offer flexibility with pricing, based on a customer's ability to pay. He makes sure his clients can afford to bring their pets, and he does not require appointments for vaccinations, which has helped his business recover from the downturn.

The *** Animal Hospital has three other competitors in the area:……… But in addition to longer hours and giving the patients the ability to leave their pets in the care of (the veterinarian)there are other differences too that keep clients returning."
This business has a no-cost listing in our directory.  In the past month his listing has been seen 24 times and has gotten clicked on 8 times.  How many of these have resulted in appointments is hard to say, but I'm guessing he's gotten at least 1 new customer from his listing.  His practice also has a website which  I visited.   his website and saw that the keyword it is optimized for is 'bath in (his city) and his front page features low cost spay-neuters.  There is so much more this practice could be doing online to set itself apart from it's nearby neighbors, and despite what he says in the article, I know from past experience that his practice is headed for even further downturn because cutting prices and working longer hours for less money is not a sustainable way to succeed.  It's a sure way for wrecking your health, wrecking your marriage and living in a stress-filled world.
Here is an excellent article on Veterinary News 360 that outlines some good ways to adjust to the new economy provide more services to customers in a more sustainable fashion:
http://goo.gl/lAimw
I hope the veterinarian we wrote about has an opportunity to read it.  The advice given is good and if you are not already doing so, try it out.
And make you glass 1/2 full and getting fuller.
Warmly,
Adam
President
VetLocator.com