Have you ever wanted to Take a helicopter ride and buzz your office or home?  Now you can and you can do it for free – in Google's new Virtual Helicopter.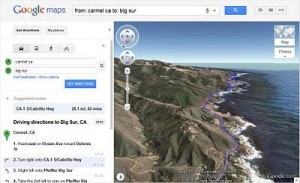 Google has added a cool 3D feature to it's Google Maps that simulates a helicopter flight.  I just took a 'flight' from Clearwater, Florida (our offices) to Key West.  It was pretty interesting.
To use this new feature you have to have the Google Earth plugin installed on your computer, which you can get HERE.  Now go to Google Maps and click Get Directions.  Enter a start point and destination like you'd normally do, chose your mode of transportation (car, bike, foot, etc) from the buttons above and click on Get Directions again.
To the right of the words Directions For you will see a small button that says 3D.  Click on that and enjoy the ride!
Adam